The Beginner's Guide to SEO 2020
---
Welcome to your SEO learning Journey!
Are you new to SEO? Do you wonder how it works and what matters most in 2020? You're in the right place! In this beginner's guide to SEO, we'll walk you step by step through the process of SEO optimization of your websites. After reading this guide, you'll be able to start optimizing websites for more organic traffic by yourself. By organic traffic, we mean traffic that you haven't paid search engines for. So let's get started with our SEO Blog for Beginners!!!!!!!!!
What is SEO?
Search engine optimization (SEO) is a process of optimizing your website with the goal of improving your rankings in the search results and getting more organic (non-paid) traffic.
Search engine optimization focuses only on organic search results and does not include PPC optimization. Both SEO and PPC are part of Search Engine Marketing.
Let's take the search term as "buy flat in mumbai" The section marked in green comprises the unpaid listings. These listings are what we're aiming for with SEO. The section marked in red contains advertisements. Advertising in Google is done through Google AdWords.
The search engines are used by internet users when they are searching for something.
And you want to provide the answer to that something. It doesn't matter whether you sell a product or service, write a blog, or anything else, search engine optimization is a must for every website owner.
To put it simply:
SEO is all the actions you do to make Google consider your website a quality source and rank it higher for your desired search queries.
SEO in practice
You don't need to know ALL the factors and the exact algorithms Google uses to rank your website. But you need to understand the basics.
To understand the key components of SEO and the relationships between them, imagine a bowl of soup – the SEO soup.
There are three key aspects of SEO:
Technical stuff – The bowl represents all the technical aspects you need to cover (often referred to as technical or on-page SEO). Without a proper bowl, there would be nothing to hold the soup.
Great content – The soup represents the content of your website – the most important part. Low-quality content = no rankings, it is that simple.
Quality backlinks – The seasoning represents the backlinks that increase the authority of your website. You can have great content and a perfectly optimized website but ultimately, you need to gain authority by getting quality backlinks – the last ingredient to make your SEO soup perfect.
In the following chapters, we'll take a look at all of these aspects from the practical point of view.
Types of SEO
As soon as you start digging into SEO, you'll come across some common terms that try to categorize its various aspects or approaches, namely:
On-page SEO & off-page SEO
Black hat SEO & white hat SEO
On-page SEO & off-page SEO
The terms on-page and off-page SEO categorize the SEO activities based on whether you perform them on the website
On-page SEO is everything you can do on the website – from the optimization of content through technical aspects.
Keyword research
Content optimization
Title tag optimization
Page performance optimization
Internal linking
The goal is to provide both perfect content and UX while showing search engines what the page is about.
Off-page SEO is mostly about getting quality backlinks to show search engines that your website has authority and value. Link building may involve techniques like:
Guest blogging
Email outreach
Broken link building
Off-page SEO is also closely connected to other areas of online marketing, such as social media marketing and branding, which have an indirect impact on building the trust and authority of your website.
Remember that a successful SEO strategy consists of both on-page and off-page SEO activities.
White hat SEO vs. black hat SEO
Black hats and white hats have their origin in Western movies. They represented bad guys and white guys.
In SEO, the terms are used to describe two groups of SEOs – those who adhere to the rules set out by Google's Webmaster Guidelines and those who don't.
Black hat SEO is a set of unethical (and usually spammy) practices to improve the rankings of a website.
These techniques can get you to the top of the SERP in a short time, however, search engines will most probably penalize and ban the website sooner or later.
White hat SEO, on the other hand, refers to all the regular SEO techniques that stick to the guidelines and rules. It is a long-term strategy in which good rankings are a side-product of good optimization, quality content, and a user-oriented approach.
While SEO experts agree that "white hat" is the way to go, there are different opinions on the acceptability of various link building techniques (including link buying).
What are search engines
A search engine is an online tool that helps people find information on the internet. A typical example? Google.
And the truth is, Google is also probably the only example you need to know.
Although SEO stands for "search engine optimization", with the current dominance of Google, we could simply use the term "Google optimization". Just look at the chart of the search engine market share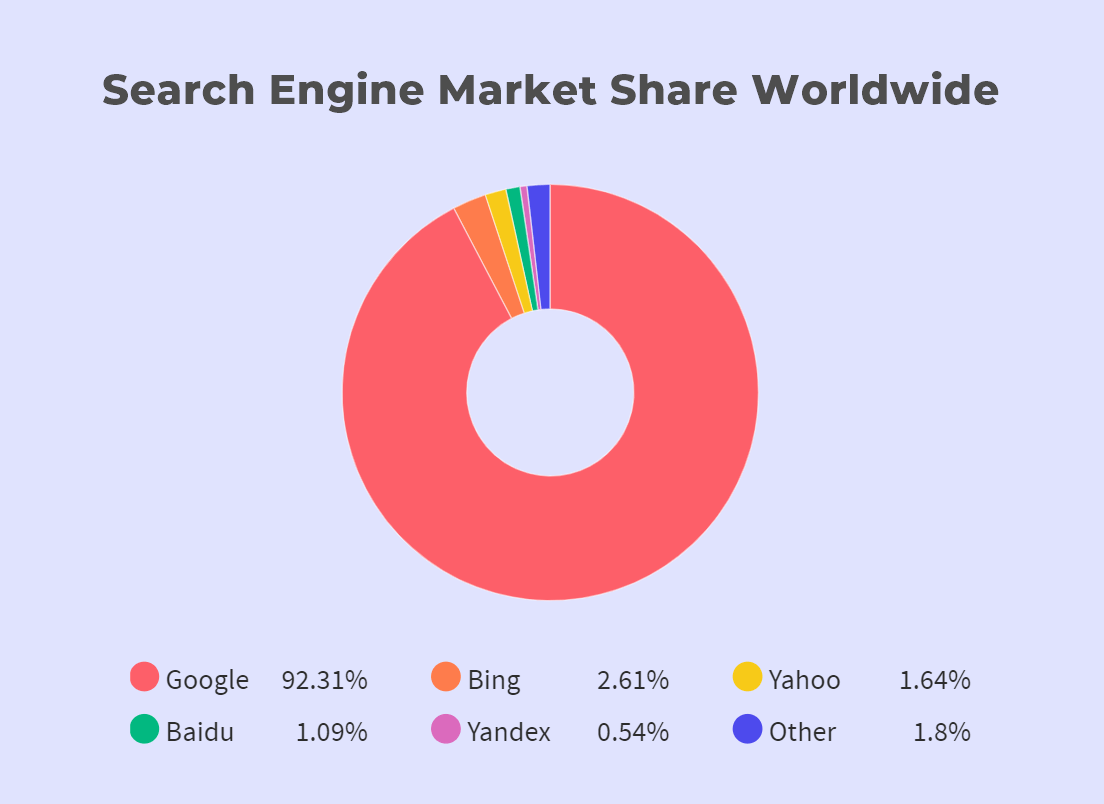 So when we talk about search engines in this guide, we mostly mean Google. Other search engines work on similar principles and as long as your website is optimized for Google, you should be all set up for others too.
How search engines work
The process in which search engines work consists of these main steps:
Crawling
Indexing
Picking the results
…and finally, showing the search results to the user.
How SEO works in a nutshell
In order to understand how SEO works, let's first take a look at how searching in Google works.
You ask and Google answers. When you type in a search query, Google answers it by returning the pages that it deems relevant.
Let's stop for a moment and think about that: how does Google know what pages to return, and in what order?
In order for Google to be able to return these pages, Google needs to know they exist, what they're about, and how popular they are.
What does it take to perform well in SEO?
In order for your website to perform well in SEO, it needs to
be search engine friendly
contain valuable content about topics that you want to rank for in search engines
bear authority and trust through links from other websites.
Where do these SEO requirements come from?
Search engines value what website visitors find important and try to capture that in their algorithms.
Keyword Research: find keywords of interest
Every SEO strategy starts with figuring out what keywords you want to rank for. Without knowing these keywords, you have no way to optimize your website for search engines. The process of researching what keywords are of interest for a business is called Keyword Research.
Where does the Keyword Research process start? Your company has certain goals it wants to achieve, and your SEO strategy needs to support these. You also have a target audience. Let's focus on them:
What keywords does your target audience use?
What intention do they have when searching for a given keyword; are they looking to buy or just looking for information?
Do people actually search for those keywords?
Is it realistic that you'll rank for those keywords, considering the competition?
All of these questions are answered during the Keyword Research phase. Its outcome is the list of keywords that you're going to incorporate in your website.
Keyword Strategy: incorporate keywords into pages
Your Keyword Strategy describes exactly how you're going to incorporate the keywords you came up with in the Keyword Research phase. Doing so helps search engines to better understand what keywords they should rank a page for.
First you map keywords to pages based on relevance. If you're targeting a set of keywords with a similar meaning, then map them to the same page. Also take into account the fact that keywords with a lot of competition need to be mapped to strong pages within your website. Your homepage is a great example of a strong page.
After you've mapped the keywords to certain pages, you define where to incorporate the keywords within those pages. As a rule of thumb, pages with little content can only be optimized for one or two keywords. Pages with a lot of content, say more than 500 words, can often be optimized for 5 to 10 keywords.
So, where do you incorporate the keywords?
The most important places are in the meta information, headings, body content, and links.
Meta information
When we're talking about meta information for SEO, we mean the title tag and meta description.
Title tag – The title tag has long been one of the most important factors in search engines' algorithms. The title describes a page's main topic in one short phrase. It's shown in browser tabs, but more importantly in search engine result pages or SERPs for short." To ensure that search engines show the title you've defined for a page, make sure it's relevant for the page, unique within your website, and between 30 characters (285 pixels) and 60 characters (575 pixels) long.
Meta description – The meta description describes a page in one or two sentences. It should describe what visitors can expect on a page. Although the meta description isn't a factor in search engine algorithms, it plays an essential role in getting visitors to click on your snippet in the SERPs. To ensure search engines show the meta description you've defined for a page, it should be: relevant for the page, unique within the website, and between 70 characters (430 pixels) and 150 characters (920 pixels) long.
Headings
Headings play a role in search engines' algorithms. Including keywords in your headings contributes to the rank for these keywords. There are six heading levels: H1–H6
Internal links
Links pass on authority and topical relevance from one page to another. This goes for links from within the same website – called internal – as well as for links from outside a website – external links.
If you want to rank with a page, you need to first make sure that the page is getting as much authority and topical relevance as possible from your other pages. Your homepage is a great example of a page that carries a lot of authority. A page acquires topical relevance when it's linked to from topically related pages using anchor texts describing the topic.
Link building tactics
Activities centered on gaining links are called link building. Link building is about understanding what makes people tick. If you figure that out, you'll be able to gain links that pack a punch.
Your website won't get many links naturally. You can't just publish your content, sit back, and wait for people to link to it. It doesn't work that way. You need to help them find it first.
Reaching your audience with your content is very hard. As a rule of thumb, you should spend as much time promoting your content as you do create it.
Conclusion
To be successful at SEO or to be a successful SEO Expert, your website needs to be search engine friendly, offer valuable content to your visitors, and have authority and trust. You need to work on all three aspects, and for example, having great content but no links pointing to it won't cut it. If you don't fire on all cylinders, the return on investment for your SEO efforts will be very disappointing. Put in the work, and don't lose focus on what matters most in SEO: your visitors.